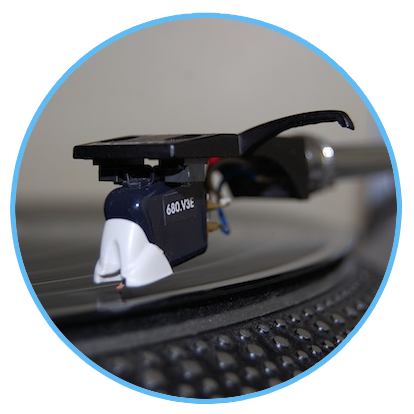 Cutting Grooves Vinyl Cuts
7" singles to 12" full albums!
Welcome to the vinyl cutting service from Cutting Grooves
With this service I am able to offer high quality vinyl copies of your music, from DJ dubplates to a transfer of your reel to reel master tapes, keeping faithful to the analogue ideal. One off custom vinyl records and short runs.
As a sound of engineer for over 30 years I have significant experience in all kinds of music from classical to reggae and beyond.
The machine I use is the only new system currently being produced and is hand built in Germany to very exacting standards and offers very high quality results.
With everything I do I aim to provide clear and simple pricing and am always open to direct communications via email or phone calls.
Basic pricing is as follows:
7" single 4 mins per side £18 plus postage (45RPM) see FAQ for Jukebox singles
10'" EP 4 to 8 mins per side £ 29 plus postage (45RPM)
12" single 6 to 9 minutes per side £35 plus postage (45 RPM)
12" Album 12 to 15 minutes per side max £48 plus postage (33RPM)
10" & 12" at 78rpm please get in touch ( generally £36) see FAQ for Jukebox 78s.
(discounts for multiple copies and other options are available - see Price List page or just ask!)
Every record includes a simple white label with name(s) of artist and tracks in a dust cover and coloured stiff cardboard outer sleeve (see our services page). In the future I aim to provide personalised covers using your photos and/or sleeve designs.
For details on how to prepare your tracks and how to get them to me please read the FAQ page.
Please CALL 07722 050539 or e-mail info@cuttinggrooves.co.uk for more information.